Grand Opening!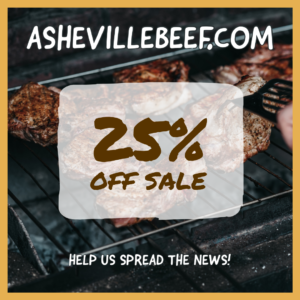 Copper Ridge Cattle Company has opened AshevilleBeef.com
To celebrate we're having a big ole giant huge awesome spring meat sale!
Get ready for summer grilling!
25% off EVERYTHING until April 1st.
25% off Small meat packs to fit any freezer.
25% off whole, half or quarters of Beef custom cut to your liking.
25% off Hats T's, Hoodies and all swag.
Our farm is working with some of our like minded neighbor farms to bring you the best quality beef, raised right.
We love our animals! Your family will too!
Help us spread the word!
---