Limited Dexter Beef Available in 2021 Going Fast! Order Now!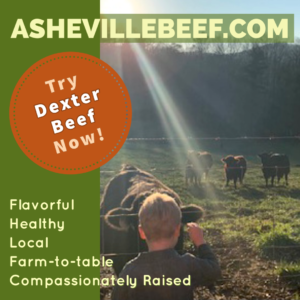 We still have some beef sides available for 2021. All of our beef is sold farm-to-table, directly to you! It is grown right here on our family farm, processed at a USDA-certified facility, and custom cut to your specifications.
If you want to know where your beef comes from, feel confident that it is compassionately raised, and want healthy protein for your family, give Dexter beef from AshevilleBeef.com a try.
Learn more about our beef on our website. To purchase a side of beef (a half steer), just click here to pay a deposit on our website and your beef will be reserved.
I'll be glad to answer questions y'all might have. I can walk you through the process of choosing your special beef cuts if you want a little help. We love this heritage-breed beef. It's the only beef in our freezer. We think you'll like it too!
Note:
We will only have 4 steers (8 halves) available in 2021. Only some of that will be for sale to the public (not sure yet how much). If you've been thinking about purchasing our beef, now might be your best opportunity to do so.
---